Hoy os voy a enseñar algo que encontrábamos en
Pinterest
.
En realidad hemos combinado dos cosas. Cuando digo " hemos" , significa que esto hice con mis hijas.Como muchas veces quieren hacer manualidades y me ayuda tener dónde buscar cuando la cabeza no da a basto.
Primero vimos estos botes de cristal con las tapas decoradas con papel que nos gustó.
From Design Sponge
Después queríamos utilizar los botes para algo útil para ellas y encontramos esto: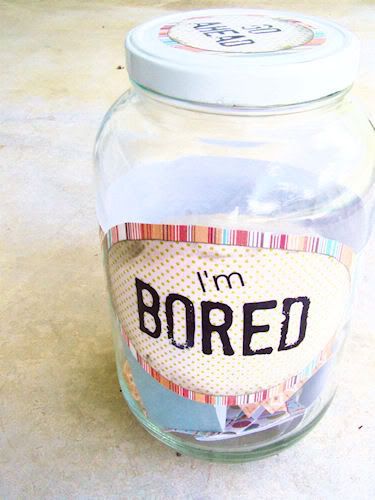 http://myhomespunthreads.blogspot.com/
Es un bote lleno de papeles dónde pone algo que pueden hacer, por si acaso los niños se aburren y no saben a que jugar. Lo bueno con lo que está escrito en los papeles es que no solo es " jugar a un juego de mesa" , "hacer un castillo con mantas" pero también cosas como " pasar la aspiradora en el salón" y " tomar un helado". Creo que tengo que coger yo también un papel un día!
A nosotros nos salió así.
Qué tengáis un buen fin de semana!!
Today I will show you something we found to do in Pinterest. What we actually did , my girls and I, was to combine two things. First thing was some beautiful lids decorated with paper. The second was a jar full of suggestions if the kids don´t know what to do or play with.
What I really liked about these papers was that id did not just say things like "play a board game", " make a fort out of blankets" , but also tasks like " hoover the living room" and " have an ice cream" . I think I need to pick a paper too!!
Have a nice week end!!